Hooked on School Week Highlights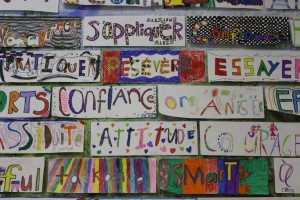 February 16 – 20 was Hooked on School Week. Perseverance was the theme. Many interesting activities took place at Sutton School.
In the school's entrance the "wall of perseverance" was created. Each student selected a word meaningful to him / her. The collection is beautiful and inspiring!
Thursday Feb. 19 certificates were handed out to outstanding students.
All students and staff raised their glass to "Perseverance" during a school assembly.
A dance followed as part of the celebration.
Click here for more information and pictures.